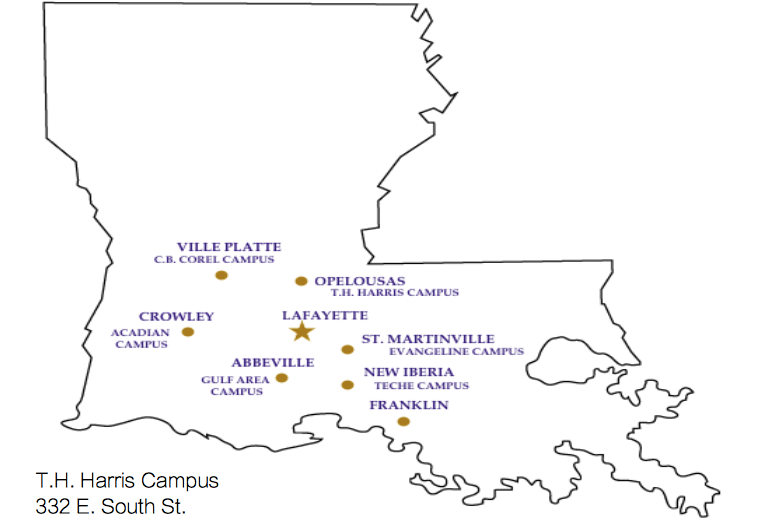 Main Campus
Lafayette Campus
1101 Bertrand Dr.
Lafayette, LA 70506
(337) 521-9000
Acadian Campus
1933 W. Hutchinson
Crowley, LA 70526
(337) 788-7521
acadian@solacc.edu
C.B. Coreil Campus
1124 Vocational Dr.
Ville Platte, LA 70586
(337) 363-2197
cbcoreil@solacc.edu
Evangeline Campus
6305 Main Highway
St. Martinville, LA 70582
(337) 394-2750
evangeline@solacc.edu
Franklin Campus
1013 Perret St.
Franklin, LA 70538
(337) 413-8146
franklin@solacc.edu
Gulf Area Campus
1115 Clover St.
Abbeville, LA 70510
(337) 893-4984
gulfarea@solacc.edu
New Iberia Campus
908 Ember Dr.
New Iberia, LA 70560
(337) 373-0185
newiberia@solacc.edu
T.H. Harris Campus
332 E. South St.
Opelousas, LA 70570
(337) 943-1518
thharris@solacc.edu
Aviation Annex
118 Shepard Drive
Lafayette, LA 70508
In conjunction with NEMSA the college serves additional sites.
Lafayette Academy
2916 N. University Building B
Lafayette, LA 70507
Alexandria Academy
724 Scott Street Alexandria, LA 71301
Baton Rouge Academy
9215 Interline Ave
Baton Rouge, LA 70809
Covington Academy
2016 Ronald Reagan Hwy
Covington, LA 70433
Gretna Academy
200A Wright Avenue Gretna,
LA 7005
Houma Academy B
144 Equity Blvd
Houma, LA 70360
Lake Charles Academy
2827 4 Ave. Ste.245 Build. A
Lake Charles, LA 70601
The college also offers dual enrollment throughout Acadia, Evangeline, Iberia, Lafayette, St. Martin, St. Landry and Vermilion Parishes.